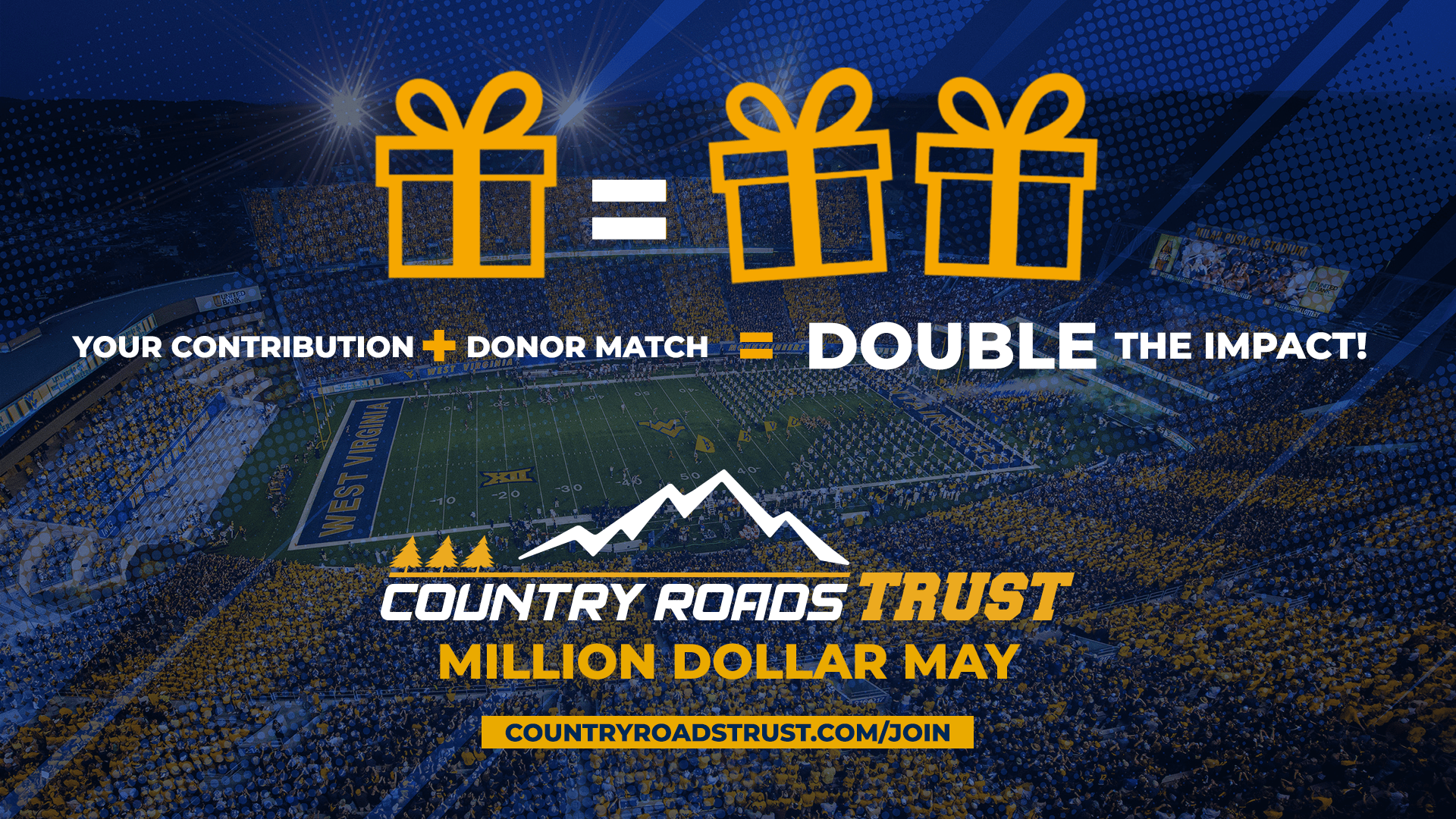 West Virginia University's baseball team is flying in rarified air these days. And Country Roads Trust — WVU's Name, Image and Likeness leader — proudly helped make that possible.
Now, Country Roads Trust is looking to reach greater heights to help keep Coach Randy Mazey's program – as well as all Mountaineer programs – soaring via a wrinkle in the ongoing Million Dollar May campaign.
According to Country Roads Trust general manager and COO Stephen Ford, a generous contributor has stepped up to match – dollar for dollar up to $1 million total – every contribution through the end of May.
"Our fundraising efforts in May have been very strong toward our goal of $1 million in annualized revenue," Ford said. "We were holding this match in our back pocket so we can get folks fired up to support our student-athletes with a final two-week May push.
"The news of this generous contributor matching dollar for dollar for this month is terrific and we hope it motivates all Mountaineer fans to join our effort. It is truly a whole West Virginia effort."
Ford said Country Roads Trust has raised approximately $400,000 total in 2023 – around $125,000 of which is eligible to be matched. The GM and COO said he'd like to see another $260,000 raised before match to make sure the collective reaches its goal.
"That would surely get us to a $1 million," Ford said. "We encourage all Mountaineer fans to contribute whatever they can afford, whether it's annually, monthly or a one-time contribution."
Ford said those interested in helping may do so at https://countryroadstrust.com.
Ford said the effort is worthwhile and produces results.
"We're so proud of Coach Mazey and our baseball team," he said. "Baseball has achieved some of its highest rankings ever and, with the efforts of Million Dollar May, we'll be able to remain a Top 10 contender year in and year out."
WVU's baseball team is No. 6 nationally in D1baseball.com and NCBWA polls, while Baseball America and the USA Today coaches' poll has it at No. 7.
"That kind of success is what WVU fans expect and deserve," Ford said. "We hope all Mountaineer fans become part of the Country Roads Trust team today!"