WVU Quarterback Garrett Greene & Wide Receiver Hudson Clement Look Back At Duquesne
Wide receiver Hudson Clement had a game for the record books against Duquesne last Saturday evening, joining Tavon Austin and Stedman Bailey as the only receivers to ever have 175 yards and three touchdowns receiving.
He joins quarterback Garrett Greene and Amanda Mazey to discuss the performance, as well as Hudson being put on scholarship immediately after the game.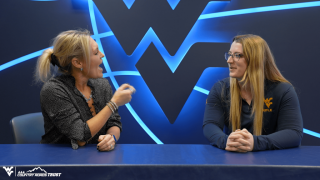 Interview with West Virginia Rifle Athlete Malori Brown Why does WVU Rifle sharp shooter Malori Brown have her name in […]
Climbing The Mountain Podcast
Climbing The Mountain Podcast
Blaine Traxel & Ben Hampton | Climbing the Mountain
Their styles are different, but their goals are the same. West Virginia University pitchers Blaine Traxel and Ben Hampton are hoping to take their success on the mound and continue that into Big 12 play.
New episodes every Thursday during spring football practice!