Andrew Jackson, Lee Kpogba, Malachi Ruffin, Jared Bartlett & Aubrey Burks | Climbing the Mountain
Welcome to the third episode of spring 2023 edition of Climbing the Mountain, presented by Encova Insurance.
We switch over to the defensive side of the ball this week and first chat with defensive line coach Andrew Jackson, who discusses replacing Dante Stills and the consistency his position room needs to have in 2023.
Linebacker Lee Kpogba and defensive back Malachi Ruffin then joined the program to discuss Malachi's growth and Lee becoming a leader in his final season.
We then close out the third episode with linebacker Jared Bartlett and defensive back Aubrey Burks, who update us on the progression during the third week of spring practice.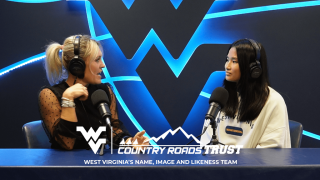 Sit Down Interview With West Virginia Gymnast Chloe Asper If not for the love of a single mom in Pennsylvania, […]
Climbing The Mountain Podcast
Climbing The Mountain Podcast
Blaine Traxel & Ben Hampton | Climbing the Mountain
Their styles are different, but their goals are the same. West Virginia University pitchers Blaine Traxel and Ben Hampton are hoping to take their success on the mound and continue that into Big 12 play.
New episodes every Thursday during spring football practice!