Jordan Lesley, Justin Johnson, Sean Martin, Jacolby Spells & Brandon Yates | Climbing the Mountain
Welcome to the fifth episode of spring 2023 edition of Climbing the Mountain, presented by Encova Insurance. We welcome defensive coordinator Jordan Lesley (0:12), who breaks down the growth throughout spring practice on the defensive side of the ball.
Running back Justin Johnson and defensive lineman Sean Martin (8:39) join us for the second segment. Justin talks about the running back room and his personal goals for 2023, while Sean discusses becoming the leading figure along the defensive line.
We then close out the fourth episode with defensive back Jacolby Spells and offensive lineman Brandon Yates (14:47). Jacolby discusses his growth from freshman to sophomore year, while Brandon talks about position changes as he has now been taking reps at guard and center.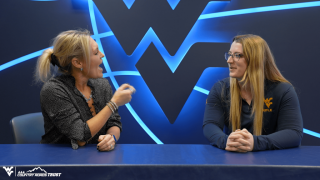 Interview with West Virginia Rifle Athlete Malori Brown Why does WVU Rifle sharp shooter Malori Brown have her name in […]
Climbing The Mountain Podcast
Climbing The Mountain Podcast
Interview with WVU Baseball Player Caleb McNeely
Only a few months into his West Virginia baseball career, Caleb McNeely has already left his mark in the history books with an amazing catch to help secure a mid-week win, hitting for the cycle at Kansas State last weekend and most recently smashing two home runs to defeat Marshall in Charleston. Caleb sits down with Amanda Mazey to discuss his background and accomplishments thus far.
New episodes every Thursday during spring football practice!