Catching Up with West Virginia Director of Athletics Wren Baker
A lot of changes have happened within WVU Athletics and the Big 12 over the past two months. Amanda Mazey sits down with Wren Baker to get an update on Mountaineer athletics and his thoughts on his first WVU Football season.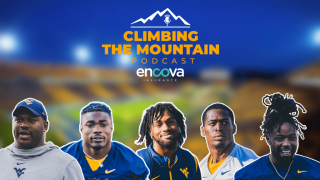 Andrew Jackson, Lee Kpogba, Malachi Ruffin, Jared Bartlett & Aubrey Burks | Climbing the Mountain Welcome to the third episode […]
Climbing The Mountain Podcast
Climbing The Mountain Podcast
Interview with WVU Baseball Player Caleb McNeely
Only a few months into his West Virginia baseball career, Caleb McNeely has already left his mark in the history books with an amazing catch to help secure a mid-week win, hitting for the cycle at Kansas State last weekend and most recently smashing two home runs to defeat Marshall in Charleston. Caleb sits down with Amanda Mazey to discuss his background and accomplishments thus far.
New episodes every Thursday during spring football practice!